Highest-Grossing Filipino Films of All Time
Besides receiving critical acclaim, it is an achievement for the director and everyone behind the movie if their film becomes a box office hit. While it's not the main goal, seeing that their product has been watched by countless people and is breaking records is another form of success.
When it comes to the Philippine cinematic industry, what commonly enjoys box office success are comedy films, but romance dramas and other films of different genres don't really fall far behind.
Here are the highest-grossing Filipino films of all time, which broke records and made a lot of Filipinos laugh, cry, and learn life lessons.
5 Highest-Grossing Filipino Films Ever
5. Girl, Boy, Bakla, Tomboy (2013)
Box office: ₱436 million
Starring one of the Philippines's top comedy stars, Vice Ganda, Girl, Boy, Bakla, Tomboy tells the story of quadruplets Girlie (girl), Peter (boy), Mark (bakla or gay), and Panying (tomboy) who have long lived separately and finally met again after many years. When a big dilemma is thrown their way, the siblings learn to accept and love each other again despite their differences.
Girl, Boy, Bakla, Tomboy was made with a ₱30 million budget, but on its opening day alone, the film already earned more than twice the said amount. Earning a total of ₱436 million in ticket sales, this 2013 comedy film is now one of the highest-grossing Filipino films of all time.
4. The Amazing Praybeyt Benjamin (2014)
Box office: ₱456 million
Another Vice Ganda-starred film, The Amazing Praybeyt Benjamin is the sequel to the 2011 film The Unkabogable Praybeyt Benjamin.
he film centers around the life of Benjamin "Benjie" Santos VIII (Vice), a gay man who is born into a family of soldiers and is forced to enlist in the army on his father's behalf. After defeating the enemy with help from his colleagues, he rises to fame and has become a worldwide sensation.
With the new task that he's given and the terrorist attack that starts to envelop the country in fear, Benjie once again sets off to help his country and prove that he too is capable of something.
The Amazing Praybeyt Benjamin was part of the lineup of the 40th Metro Manila Film Festival, and on the festival's opening day, the film topped the box office. As of this writing, the comedy movie has already earned a total of ₱456 million, making it one of the highest-grossing Filipino films of all time.
3. Beauty and the Bestie (2015)
Box office: ₱526 million
Starring Coco Martin and Vice Ganda, Beauty and the Bestie is a story of friendship and forgiveness. Erika (Vice) and Emman (Martin) are former best friends, but things between them go rough, and they end up going separate ways. As they meet again, Erika and Emman find themselves helping each other solve their personal problems and are forced to face whatever it was that stained their relationship.
This Wenn Deramas film is one of the few movies to have reached and gone past the ₱500-million mark in box office. While the film received mixed reviews, the lead actors' onscreen chemistry attracted a lot of viewers, enough to place it on the list of highest-grossing Filipino films ever.
2. A Second Chance (2015)
Box office: ₱556 million
A Second Chance is that one romance-drama film you will want to watch all over again. The sequel to the equally beautiful 2007 film One More Chance, this 2015 film made headlines not only for its story but also because of the performance of leading stars Bea Alonzo and John Lloyd Cruz.
Basha (Alonzo) and Popoy (Cruz) are college lovers who decide to end their relationship in hopes of pursuing individual goals and finding themselves. Now that they meet again, they are bound to face their past mistakes that led to their breakup. As they give their relationship another chance, A Second Chance follows Basha and Popoy's life as a married couple.
Besides earning generally favorable reviews, A Second Chance broke box office records. It earned more than ₱40 million on its opening day and is now one of the highest-grossing Filipino films of all time, earning more than half a billion pesos.
1. The Super Parental Guardians (2016)
Box office: ₱590 million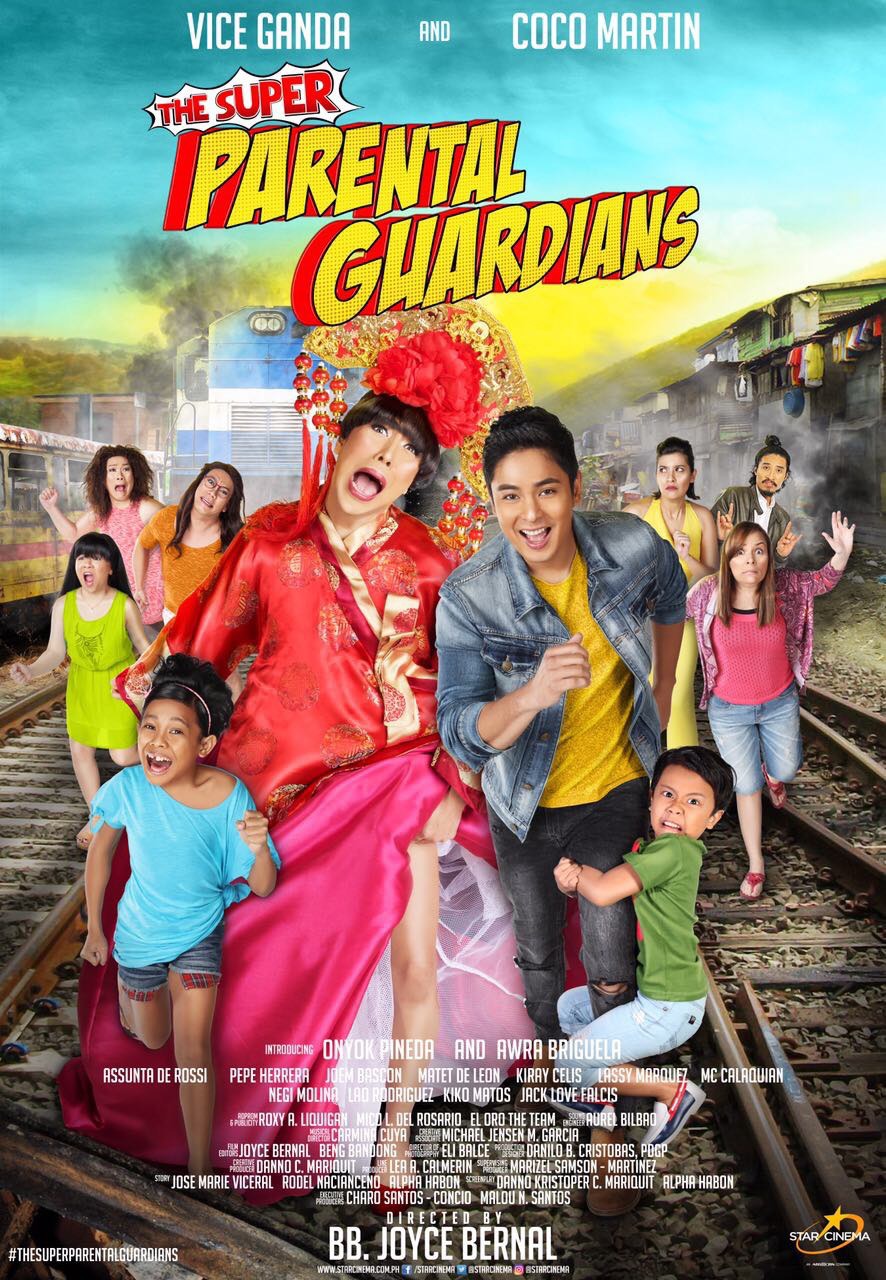 Although the latest film on this list, The Super Parental Guardians earned the most in box office.
Real-life best friends and comedy duo Coco Martin and Vice Ganda star once again in this  blockbuster hit about an unlikely pair who ends up taking care of two kids after the children's mother dies.
Earning a whopping ₱75 million on its first day, The Super Parental Guardians went on to become a huge hit. It was initially shown in only 240 cinemas, but due to public demand, the number of cinemas was increased to 309.
Released in November 2016, barely a month after, in January 2017, The Super Parental Guardians has already raked in almost ₱600 million in ticket sales. The number continues to rise, and now the comedy movie is officially named the highest-grossing Filipino film in Philippine cinematic history.
Highest-Grossing Filipino Films of All Time
by
Holly