PH's Bet Wins Miss International 2016
Holly
| November 29, 2016
The Philippines's Kylie Verzosa edged out 68 other contestants from other countries and took home the crown in the 2016 Miss International beauty contest last month, which was held at Tokyo Dome in Tokyo, Japan.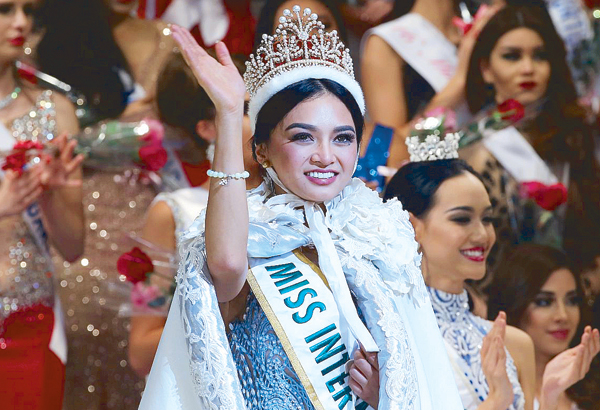 During the Top 15 speech round, Verzosa said,
"If I become Miss International 2016, I will devote myself to cultural understanding and international understanding. Because I believe that it is with developing in each of us sensitivity to other cultures that we expand our horizons, tolerate difference and appreciate diversity. All these enable us to achieve international understanding. And I believe I am prepared to take on this responsibility."
The 24-year old beauty queen was a preschool teacher before she participated in beauty contests. She was a graduate of Ateneo de Manila University with a bachelor's degree in business management. She was also a volunteer for Natasha Goulbourn Foundation, an organization that aims to raise mental health awareness.
Verzosa first joined the Binibining Pilipinas beauty pageant in 2015 where she earned one of the top 15 spots. It was in her second try that she became successful. She won the Binibining Pilipinas International title, represented the country in the Miss International competition, and eventually bagged the crown.
As Miss International 2016 winner, Kylie Verzosa is expected to travel around the world to promote  cooperation, understanding, and world peace.
The competition's first runner-up is Miss Australia Alexandra Britton, the second runner-up is Miss Indonesia Felicia Hwang, the third runner-up is Miss Nicaragua Brianny Chamorro (also Best in Costume awardee), while the fourth runner-up is USA's Kaityrana Leinbach.
Verzosa's win made the Philippines one of the countries with most wins in the field of beauty contests with 13 titles. Miss International is one of the four major beauty pageants.  The other Filipinas who have won the Miss International crown are Gemma Cruz in 1963, Aurora Pijuan in 1970, Melanie Marquez in 1979, Lara Precious Quigaman in 2005, and Bea Rose Santiago in 2013.
Last year, another Filipino took home the title in a different major beauty pageant. Miss Philippines Pia Wurtzbach was crowned Miss Universe 2015,  the third Filipina to do so, after Gloria Diaz in 1969 and Margarita Moran, who won the title in 1973.
PH's Bet Wins Miss International 2016
by
Holly