Top 10 Internationally Acclaimed Filipino Directors
They are the leaders in the Philippine cinema who never ceased to amaze us with their iconic movies that became the all-time favorite of Filipinos. But their films did not only win the hearts of locals; they also earned international recognition.
In this article, we reveal the ten internationally acclaimed Filipino directors who made a history in the Philippine and international filmmaking industry.
 1. Lino Brocka
Filipino Academy of Movie Arts and Sciences (FAMAS) best director awardee in 1970, 1974, 1975, 1979, and 1990, Lino Brocka is one of the greatest Filipino directors. He was even a recipient of the prestigious National Artist of the Philippines for Film Award in 1997 because of his significant contribution to the development of Philippine arts.
His 1976 film Insiang was the first Filipino film showcased in Cannes Film Festival.  In 1980 and 1984, respectively, his two films Jaguar and Bayan Ko were nominated for the Palme d'Or, the highest prize awarded at the Cannes Film Festival.
2. Eddie Romero
One of the finest filmmakers in the country, Eddie Romero is FAMAS's best director in 1966 and 1980. He is also noted for bringing back to life Jose Rizal's novel Noli Me Tangere in a thirteen-part television series.
Romero has also made films in English language (Beast of Blood, The Woman Hunt) and worked with some American actors like John Ashley and Pam Grier.
3. Marilou Diaz-Abaya
Awarded best director for four nonconsecutive years by FAMAS, Marilou Diaz-Abaya was known for her 1998 film Jose Rizal. The said film had also earned her a best director award from Metro Manila Film Festival (MMFF).
Abaya was a Fukuoka Asian Culture Prize recipient in 2001. She also received awards from the British Film Institute, International Federation of Film Critics, and Network for the Promotion of Asian Cinema.
4. Cirio H. Santiago
Founder of Manila's Premier Production, Cirio Santiago is a two-time winner of FAMAS's best director award. He directed English language films like Savage, TNT Jackson, and Firehawk. He also directed films in Vietnam and had worked with US-based producers and directors like Roger Corman, Jonathan Demme, Joe Dante, and Carl Franklin.
5. Lav Diaz
Independent filmmaker Lavrente Indico Diaz received several international awards, which include Best Picture Award in Singapore International Film Festival, Special Jury Prize at the Fribourg International Festival, Golden Lion Special Mention in Venice Film Festival, Orizzonti Grand Prize at the 65th Venice International Film Festival, and Best Asian Film in Jeonju International Film Festival.
His film was screened in the 2013 Cannes Film Festival, and during last year's Locarno International Film Festival, he was awarded with the Golden Leopard Award.
6. Vicente Salumbides
Founder of the Salumbides Film Company in the Philippines, Vicente Salumbides is an actor, director, and writer who practiced his craft in Hollywood. He is locally known for his film Florante and Laura and Ibong Adarna. His other movies include Miracles of Love, Fate or Consequence, and The Soul Saver.
7. Ishmael Bernal
Mentor of fellow director Marilou Diaz-Abaya, Ishmael Bernal is the director behind the famous classic film Himala.
Declared as National Artist of the Philippines in 2001, Bernal has won several local and international awards such as CMMA Best Director Award in Chicago International Film Festival in 1983 and ASEAN Cultural Award in Communication Arts  in Brunei in 1993.
8. Brillante Mendoza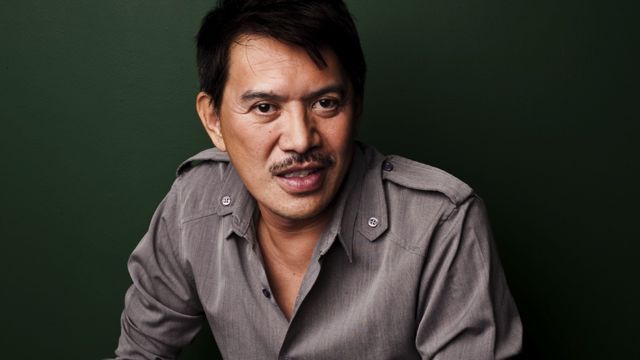 Film director from Pampanga, Brillante Mendoza brilliantly made his way from the local scene to the international film industry. He was named as the best director during the Cannes Film Festival in 2009, and his film was named the best in the Dubai International Film Festival in the same year.
His 2012 film Thy Womb, which starred Nora Aunor, was also nominated in the 69th Venice International Film Festival.
9. Tikoy Aguiluz
Founder of Cinemanila International Film Festival and co-founder of University of Philippines Film Institute, Tikoy Aguiluz was the recipient of John D. Rockefeller III grant to study filmmaking in New York University. His films won the silver trophy in the Young Filmmakers of Asia Festival in Iran and the Grand Jury Prize at the Brussels International Film Festival.
10. Maryo J. delos Reyes
Maryo J. delos Reyes is the director behind the iconic film Magnifico, which earned him the Crystal Bear Award for Best Feature Film in Berlin International Film Festival and the Special Jury Award in Brussels International Independent Film Festival, all in 2004. His other films include Naglalayag and A Love Story.
These are just ten of the hundreds of talented Filipino filmmakers and directors whose ingenuity when it comes to the film industry made a significant contribution not just to the Philippine cinema but also to the international film scene.
Top 10 Internationally Acclaimed Filipino Directors
by
Holly Bissonnette